Who migrates?
The current global estimate is that there were around 281 million international migrants in the world in 2020, which equates to 3.6 per cent of the global population. As will be further explored in this module, the overwhelming majority of people migrate internationally for reasons related to work, family and study – involving migration processes that largely occur without fundamentally challenging migrants themselves or the countries they enter.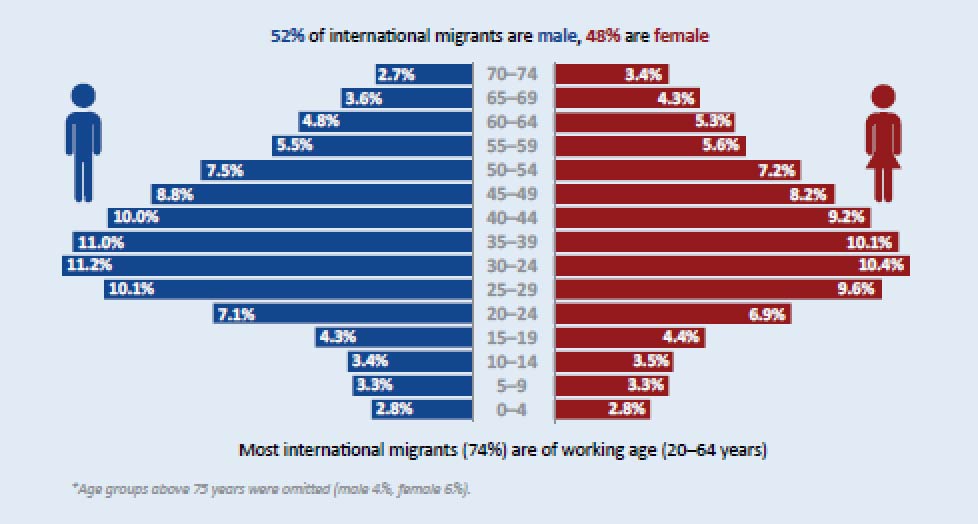 In contrast, other people leave their homes and countries for a range of compelling and sometimes tragic reasons, such as conflict, persecution and disaster. While those who have been displaced across borders, such as refugees, comprise a relatively small percentage of all international migrants, they are often the most in need of assistance and support. This is also the case of those displaced within their own countries– internally displaced persons (IDPs)- who are sometimes considered internal migrants.
Conflating 'migration' and 'migrant'
To migrate is to move; it involves action. In contrast, a migrant is a person described as such for one or more reasons, depending on the context. While in many cases, "migrants" do undertake some form of migration, this is not always the case. In some situations, people who have never undertaken migration may be referred to as migrants – children of people born overseas, for example, are commonly called second or third-generation migrants.
Research and analysis on the topic
Videos
Explaining refugees, asylum seekers and IDPs Refugee (1951 Convention)
A person who, owing to a well-founded fear of persecution for reasons of race, religion, nationality, membership of a particular social group or political opinion, is outside the country of his nationality and is unable or, owing to such fear, is unwilling to avail himself of the protection of that country; or who, not having a nationality and being outside the country of his former habitual residence as a result of such events, is unable or, owing to such fear, is unwilling to return to it. Asylum Seeker: An individual who is seeking international protection. In countries with individualized procedures, an asylum seeker is someone whose claim has not yet been finally decided on by the country in which he or she has submitted it. Not every asylum seeker will be recognized as a refugee. Internally Displaced Persons: Persons or groups of persons who have been forced or obliged to flee or to leave their homes or places of habitual residence, in particular as a result of or in order to avoid the effects of armed conflict, situations of generalized violence, violations of human rights or natural or human-made disasters, and who have not crossed an internationally recognized State border. Source: IOM Glossary, 2019.
Reflection questions
According to the chart under 'Who Migrates' (above), what percentage of male migrants are under the age of 19?

What percentage of female migrants are over the age of 60?"

Read the PDF file on the Migration Data Portal webpage Key Global Migration Figures to find the following information about migrants:

Number of percentage of child migrants
Number and percentage of migrant workers
Number of Refugees and Asylum Seekers
Number and percentage of female migrants

In your own words, explain the difference between a refugee, asylum seeker, and internally displaced person? Use the case study of Venezuela to describe why these definitional differences are challenging.